Hot Rod Information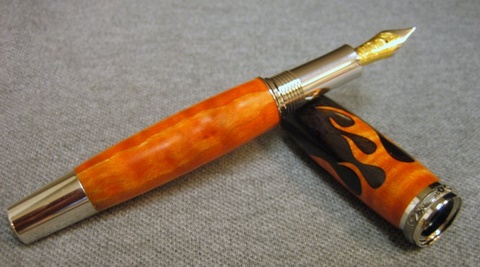 This is truly a unique Statesman pen that has a distinctive look all of its own. The flame theme on this handmade pen is reminiscent of all things that go fast! This pen features the use of 14 precision laser-cut African Blackwood pieces on the cap and stabilized curly maple dyed orange for the cap and bottom. This pen features Black Titanium hardware with hand-cast three dimensional engraved insets on the end caps and center band.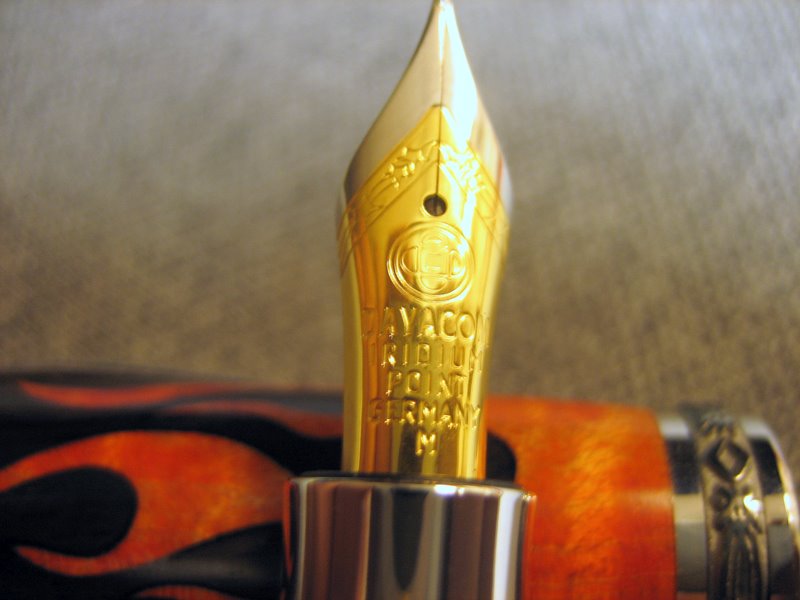 This fountain pen features a top quality German-made two-tone nib with genuine iridium point for smooth writing and dependable ink flow. The pen will accept standard ink cartridges as well as ink reservoirs. They are available at most office supply stores.
In the tradition of fine desk pens, the Statesman Pen is not designed for use with the cap attached to the pen. This ensures that you will enjoy effortless writing and the perfect balance of the Statesman pen every time you use it. Just be sure to leave the pen cap in plain sight where others can see what they're missing!



Black Titanium Statesman Hot Rod Fountain Pen
$149.99
---
Return to Fountain Pens from Hot Rod Information

Return to the Home Page